November 13, 2017 7:25 am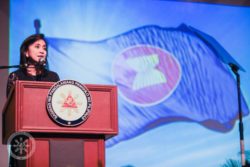 Photo by: Office of the Vice President, Republic of the Philippines
These were the words of Philippine Vice President Leonor "Leni" Gerona Robredo in the opening ceremonies of the 1st Southeast Asian Women's Summit held on 7-9 November 2017 in Miriam College, Quezon City, the Philippines.
 "We need to take advantage of the opportunities created by the ASEAN Economic Community by making sure that our workers are ready. When we do, our people, especially our women, will not be left behind; instead, they will be equipped with competencies that are in line with the demands of the international labor market," Robredo said.
The summit, which carried the theme, "What's in it for Women and Why Women are in it?", was also attended by representatives from UN Women Regional Office for Asia and the Pacific, ASEAN Commission on the Promotion and Protection of Women and Children (ACWC), ASEAN Women's Entrepreneurs Network (AWEN), ASEAN SOGIE Caucus, International Women's Rights Action Watch (IWRAW) and the woman Ambassadors of Singapore and Australia to the Philippines.
CALD Women's Caucus was represented in the event by its chairperson and vice-chairperson, Jayanthi Devi Balaguru and Rachada Dhnadirek, respectively.  They spoke in the parallel session "Women's Role in Preventing Violent Extremism", which discussed the challenges posed by violent extremism in the region, as well as the challenges, programs and policies adopted by governments, civil society and communities in countering and preventing it.
"It's clear that innovative, well-planned and carefully-executed strategies are imminent to counter militant narratives", said Balaguru.  "We should pledge to work with the regional governments to ensure that national and regional counter-terrorism policies and strategies are informed by women's experiences and to lobby towards promoting gender equality as it is potentially the single most powerful counter to extremist interpretations of religion."
Dhnadirek, who also previously served in the Thai parliament, added: "Men and women have to work together on issues that cannot be ignored. Part of the program on countering violent extremism should include building the capacity of mothers to further influence their communities, promoting social and economic empowerment, and building the capacity of women to actively participate in peace and security agenda."
Former CALD Women's Caucus Chairperson, Mu Sochua of Cambodia, also addressed the summit's plenary through a video message, while CALD Executive Director Celito Arlegue moderated the parallel session on populism and the erosion of democracy.
Categorised in: News, News Article
This post was written by CALD