September 23, 2016 5:34 am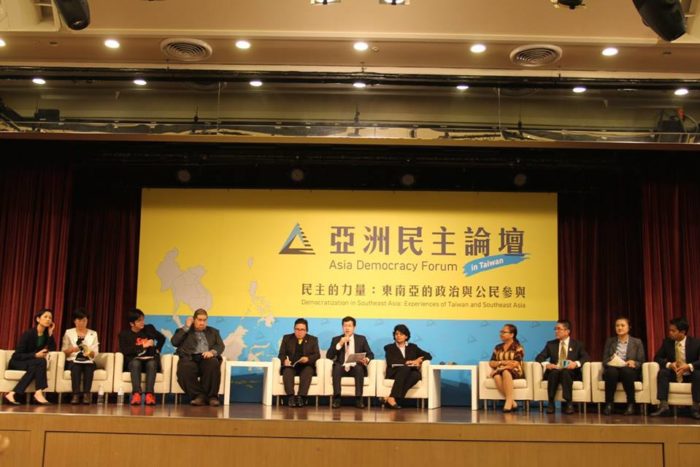 On 9-12 September, CALD organized its Executive Visit to Taiwan and participated in the first Asia Democracy Forum hosted by the Democratic Progressive Party (DPP) Democracy Institute.
The Asia Democracy Forum provided a venue for the participants to discuss with Taiwanese locals matters concerning media and politics and youth and women empowerment and the ongoing democratization process in Asia.
Dr. Michael Hsiao, Chairman of the Center for Southeast Asian Studies and keynote speaker of the Asia Democracy Forum, said that "Democracy is not cheap…It can be sustainable, developed, and strengthened."
He said democracy in Taiwan did not happen overnight. Democracy is a result of the struggle of activists, grassroots, intellectuals, and professionals during its long process of transition, transformation and consolidation.
At the Jing-Mei Human Rights Memorial and Cultural Park in Taipei, the CALD delegates met Ms. Chang Wen-Ying, one of the founders of DPP and a political victim of the Formosa Incident, who provided a firsthand recollection of her life in prison.
Even as a dentist, she was able to help activists and political detainees. When she was released from prison, she became the Editor of the Formosa Magazine and worked her way to be elected Mayor of Taichung.
She said, she does not need the pity of people. She believes she can work, be productive, and fight for what she thinks is right.
This mission not only aimed to encourage dialogue on democratic development and challenges in the region, it also provided an understanding of the critical role played by the DPP, one of CALD's founding member-parties, in institutionalizing Taiwan's democratic gains and in consolidating further the country's role in regional politics.
The CALD delegates had the opportunity to sit down and dialogue with Taiwan Vice President Chen Chien-Jen at the Presidential Office to push for the promotion and protection of democracy in the region.
Taiwan, considered to be one of Asia's most stable democracies, is strengthening its ties with Asia through the so-called New Southbound Policy.
Vice President Chen emphasized that Taiwan "will continue to deepen our relationships with friendly democracies in Asia to advance multifaceted cooperation on the basis of shared values."
"At this crucial juncture, the Council of Asian Liberals and Democrats is playing a stabilizing role as a platform for governments, political parties, and nongovernmental organizations within the region to conduct free dialogue and share experiences," he added.
The delegates of the mission included: Hon. Keo Phirum, Cambodia National Rescue Party; Datuk Jayanthi Balaguru, Vice Chairperson of the CALD Women's Caucus and Central Committee Member of Parti Gerakan Rakyat Malaysia; Datuk Yong Soo Heong, fomer Chief Executive of Bernama Malaysia; Ms. Erdenechimeg Tegshjargal, Political Committee Member of the Civil Will Green Party of Mongolia;  Ms. Arlene "Kaka" Bag-ao, Member of Parliament and Vice President for Women of the Liberal Party of the Philippines (LP); Mr. Herminio Bagro III, LP Vice President for Youth; Dr. Chee Soon Juan, Secretary General of the Singapore Democratic Party; Dr. Warong Dechgitvigrom, former Member of Parliament from the Democrat Party Thailand (DP); Dr. Rachada Dhnadirek, former Member of Parliament and DP Executive Committee Member.
Mr. Lito Arlegue and Mr. Paolo Zamora of the CALD Secretariat also joined the mission with partners from the Friedrich Naumann Foundation (FNF): Mr. Wolfgang Heinze, FNF Philippines Country Director, and Mr. Armin Reinartz, Regional Project Manager and Analyst for East and Southeast Asia.
Categorised in: News, News Article
This post was written by CALD