November 13, 2017 6:10 am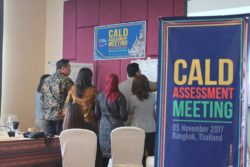 The Council of Asian Liberals and Democrats (CALD) began its preparations for its 25th founding anniversary in 2018 with a workshop in Bangkok, Thailand last 5 November 2017.  With the theme, "CALD @ 25: Taking Stock, Setting Direction", the event aimed to take stock of CALD's achievements in the past, assess its current standing, and set its future direction as the foremost network of liberal and democratic parties in the Asian region.
The workshop, which was ably facilitated by Mardi Mapa-Suplido, began with inputs from CALD officials and the secretariat.  Dr. Chee Soon Juan, secretary general of the Singapore Democratic Party (SDP) and former CALD chairperson, emphasized the success of CALD compared to other attempts to ideologically organize political parties in Asia.  However, he also recognized that "there is much bigger potential in CALD than what it presently has… and that we should take the rare opportunity presented by the silver anniversary to rethink where we are at this stage and where we want to be in the next 25 years."
John Joseph Coronel and Celito Arlegue, former and current CALD executive directors, shared their thoughts on the early years of CALD, its successes and challenges, as well as possibilities for the future. Reflecting on the rise of populism, illiberalism and authoritarianism in the region, Arlegue said: "So where do we go from here?  I think before we can respond to this question, we really need to take a hard look on ourselves, and really assess what worked, and more importantly, what went wrong."
After the presentations, the delegates were asked to come up with their own assessment of the strengths and weaknesses of the network using a metacard exercise focusing on four areas: (1) vision, mission, brand and values; (2) messages and communication; (3) programs, advocacies and activities; and (4) organizations and relationships. From this assessment, proposals were advanced and prioritized on how to make CALD more effective, more influential, financially viable and politically potent.
"We are opening up much more – we are being more candid and frank about our shortcomings while appreciating the successes and the good work that we do", said CALD Chairperson Abhisit Vejjajiva.  "I think that this is very important and if we can carry this spirit on, we will be able to successfully chart CALD's direction in the next 25 years."
Categorised in: News, News Article
This post was written by CALD