January 9, 2018 4:59 am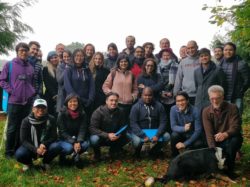 CALD Project Officer, Francis Miguel Panday attended an International Academy for Leadership (IAF) seminar on "Liberals, Property, and Environment" last 15-27 October 2017 in Gummersbach, Germany. The seminar was consisted of young liberals from Asia, Africa, Europe, Latin America, and the Middle East. These participants were cordially welcomed by the IAF staff and Director Ms. Bettina Solinger, who provided an insightful presentation on the Foundation and Academy's history and recent updates on the then upcoming German national elections. Dr. Stefan Melnik, Dr. Emmanuel Martin, and Mr. Sven Gerst served as facilitators, but the program was designed in such a way wherein both participants and facilitators would have equal contributions to the discussions being presented. At night, there were guest speakers on various topics that proved to be helpful in having an in-depth understanding of the concepts with several presentations on their respective real life applications.
Basically, the seminar focused on the centrality of property rights and its connections with other rights, accountability and incentives, environmental conservation, natural resources-related problems and their underlying causes, the "tragedy of the commons", rule of law, eco-centric versus anthropocentric issues, sustainability, 'enviropreneurship', and the elements of liberal policy on environment. In essence, it answered the question as to how private property rights could possibly help in conserving the environment vis-a-vis liberal values, from market economy to policy-making, and so on. In a span of two weeks, the participants and the facilitators have had very fruitful discussions, even debates on the topic itself, its substantiality, complexity, and urgency.
It may sound too serious and academic, but it was not. Surely, liberals know how to have fun too. After a week of theoretical encounters with the terms liberal, property, and environment, they had the chance to experience rural Germany and discover how local farms work at Hof am Kolk in Löningen, Germany. "It was amusing to have witnessed first class farming, and to learn how eco-farming works in an era of high technology," said Panday. Afterwards, the delegation went straight to Hamburg, the second largest city in Germany, and third largest port in Europe where they visited a place called Schleswig-Holstein, a national park located in the northern coastline of the country, facing the Wadden Sea. The national park extends from the German-Danish maritime border in the north down to the Elbe estuary in the south. The following day was spent on a city-tour in Hamburg to witness its largest economic source, the port.
The participants came back to the academy with more practical knowledge on the theories discussed. When it comes to the environment, "owning is caring," said the Project Officer. "Essential elements of liberalism can either be directly or indirectly linked to property rights, underscoring its significant centrality to the ideology. The concept of property is universal, and  can be backed by our culture of who-owns-what." He added, "However similar and 'universal' the term may have been, the way property is dealt with through customs, norms, law, etc., will always be distinct to others, and vice versa. Despite our patented knowledge of property, many, not only liberals, have taken it for granted. Oftentimes, it is unclear what the right solution would be."
CALD's participation in seminars like this not only strengthen its ties with the Foundation, but broaden potential links and network to other liberal organisations as well. This would also serve as a useful tool among staff in order to deepen their knowledge and expertise in the programs that they handle, and eventually nurture the learnings through its members parties and their people.
Categorised in: News, News Article
This post was written by CALD