February 24, 2017 7:17 am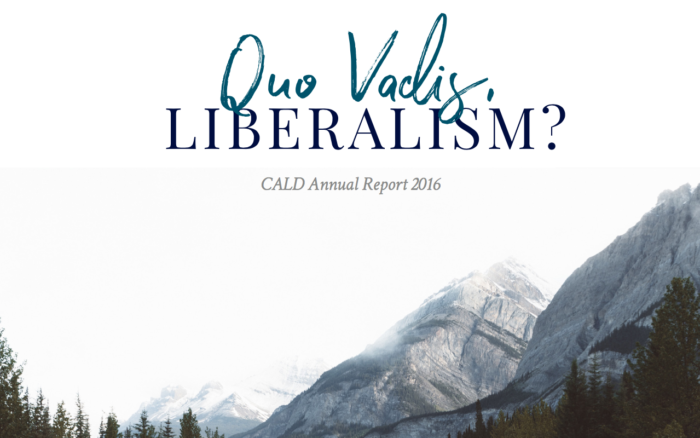 Quo Vadis, Liberalism? is the title of the latest annual report of the Council of Asian Liberals and Democrats (CALD).  The report, which documents the political party network's activities last year, is set to be officially released on the occasion of CALD's 35th Executive Committee Meeting in Bangkok, Thailand this weekend.
"Electoral defeats and impatience with the liberal ways on the part of the public suggest the need to close a growing gap between liberal democrats and the people at large, said Abhisit Vejjajiva, CALD Chairperson, in his annual report message.  "Let us join hands and work together to make sure that 2017 will be the year when illiberal tides are beaten back and people renew their faith in liberalism."
While some consider 2016 as annus horribilis for liberals all over the world due to the electoral victories of populist leaders – from Rodrigo Duterte to Donald Trump – the report recognizes that last year also witnessed notable liberal successes.  Quo Vadis, Liberalism?, for one, features the inaugural speeches of Taiwanese President Tsai Ing-wen and Philippine Vice President Leni Robredo, together with the UN General Assembly speech of Daw Aung San Suu Kyi, State Counsellor of the Republic of the Union of Myanmar.
Former CALD Chairperson Butch Abad, whose speech is also included in the annual report, vouches for a more optimistic liberal future: "… if history proves one thing, it is this: that hope will time and again outlive fear.  That the power in brute force is false and fleeting, and what will endure, in the end, is the purest strength of freedom."
Read the 2016 CALD Annual Report, Quo Vadis, Liberalism?, here.
Categorised in: News, News Article
This post was written by CALD