January 9, 2018 4:50 am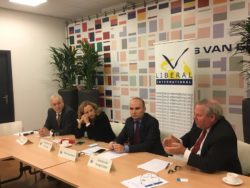 "International justice can only be achieved when the rule of law is respected and the judicial process is credible and accountable."
These were the words of CALD Secretary General Kiat Sittheeamorn in the 10th bi-annual meeting of the Liberal International Human Rights Committee (LI HRC) held in Hague, The Netherlands on 30 November 2017.  Sittheeamorn, who was recently elected as member of the LI HRC, spoke in the panel discussion on the future of international order and the role of international justice.
Joined by former Member of the European Parliament Lousewies Van Der Laan, Member of the European Parliament Ilhan Kyuchyuk and the CEO of the Hague Institute for Global Justice, Steven Van Hoogstraten, Sittheeamorn pointed out: "The response to atrocities and injustices must be swift which is why preventive measures are also increasingly important: the quicker we react the more lives we can save."
On the fringes of the event, Sittheeamorn joined the other LI HRC members in meeting the President of the International Criminal Court (ICC), Judge Silvia Fernandez de Gurmendi, who welcomed the overwhelming support from liberals in government and opposition for the important work of the Court. "The work of parliamentarians in the ratification of the Rome Statute treaty and its national implementation of the Rome Statute is key which is why I am delighted to welcome such a large delegation from Liberal International to the ICC Headquarters" she said.
Another highlight of the event was the presentation of the 2017 LI Prize for Freedom to the Uyghur activist Ilham Tohti who is currently serving a life-term jail sentence in China on politically motivated charges stemming from his actions to promote conciliation between Uyghurs and Han Chinese. During the presentation of the award, Chairman of LI HRC Markus Loening said: "Ilham Tohti has used his right to freedom of speech. The Chinese government seems to be so scared of the idea of freedom, that it is sending anyone who demands personal liberty and political freedoms to prison."
This was the second meeting of the Committee since the confirmation of its mandate by the 199th LI Executive Committee meeting in Johannesburg, South Africa. The meeting was co-hosted by VVD, D66 and ALDE Party with the support of the Friedrich Naumann Foundation, and it saw 15 LI HRC members and 10 guest delegates representing 12 countries from 3 different continents.
Apart from Sittheeamorn, the other LI HRC members from the Asian region include CALD Women's Caucus Chairperson Jayanthi Devi Balaguru and Taiwanese parliamentarian Dr. Ching-yi Lin from the CALD full member Democratic Progressive Party (DPP).
Categorised in: News, News Article
This post was written by CALD