November 21, 2013 6:34 am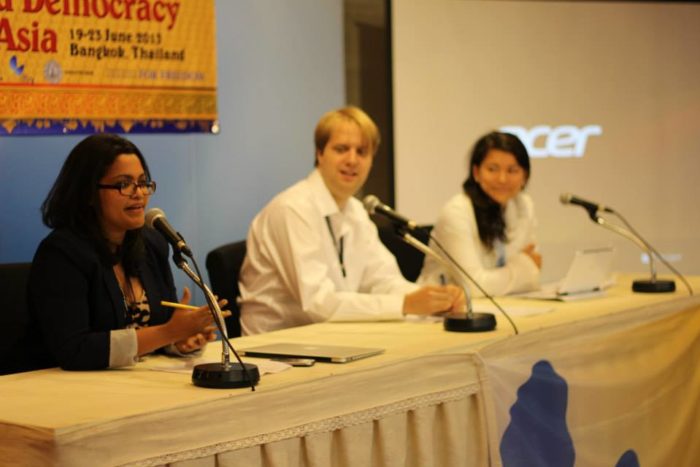 The Council of Asian Liberals and Democrats (CALD) Youth in partnership with the University of Sto. Tomas – Faculty of Arts and Letters held a fruitful seminar on the topic "Party Reform and Renewal: Youth's Role in Re-establishing Public Faith in Political Parties" on the 8th of November 2013.
The looming typhoon did not dampen the spirit of youth leaders to participate in the activity. The CALD youth members from Thailand, Cambodia, Burma, Singapore, Malaysia, and Indonesia were warmly welcomed by Prof. Josephine Placido, chairperson of the UST Department of Social Sciences.   It was a meaningful activity that served as a platform for discussion about youth leadership, the importance of political parties, and youth participation in political and democratic processes.
CALD Youth Chairperson, Mr. Nant Thananan, also a member of the Democratic Party of Thailand introduced the work and goals of CALD Youth in promoting democratic values among Asian youth and creating regional solidarity among liberal youth on issues relating to the violation of liberty, democracy, and equality; and in increasing the participation of youth in mainstream politics.
Sharing his insights on Youth Leadership and Democracy, Mr. Thananan also narrated the experiences of Thai youth in mobilizing people to fight against undemocratic practices.  Ms. Ma Kyi Pyar of the National League of Democracy in Burma highlighted the importance of Political Parties in Asian Democracy by noting that "political parties serve as a bridge between the people and the government." Country experiences were also shared by CALD Youth members Mr. Lee Hui Seng and Mr. Tan Ken Liang both from Parti Gerakan Rakyat in Malaysia.
For the Philippines, Mr. Lambert Ramirez from the National Institute for Policy Studies (NIPS), a think tank of the Liberal Party of the Philippines, detailed the role of political parties in a democracy. However, the weaknesses of the Philippine political party system have shaped the personality-oriented politics in the country.  The need to strengthening first the system would pave the way to a more ideological and platform-based politics that truly represents the will of its people.
The youth who are sometimes left adrift and unacquainted with political processes of a democratic society were called upon to take a pro-active role in democracy building. Mr. Kim Sophea of the Sam Rainsy Party in Cambodia underscored on the responsibility of the youth in taking the front seat in leading democratic reforms. With the advent of social media, youth can optimize such a useful tool in mobilizing and spreading information.
Participants of the activity were composed of students from the University of Sto. Tomas, De La Salle University, members of the Association of Political Science Organization of the Philippines (APSOP), and youth leaders from the Kabataang Liberal and Filipino Liberal Youth (FLY).
Categorised in: News Article
This post was written by CALD