March 28, 2015 12:54 pm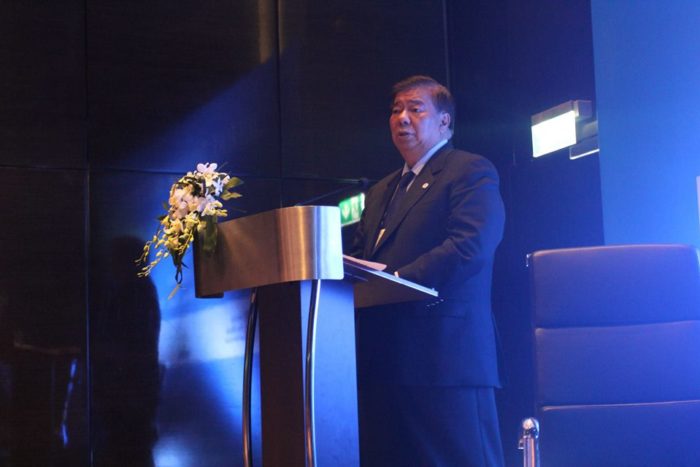 Liberal members of parliament from all over the world gathered in Hanoi, Vietnam on 27 March 2015 on the sidelines of the 132nd Assembly of the Inter-Parliamentary Union (IPU). Organized by Liberal International (LI) and the Council of Asian Liberals and Democrats (CALD), with the support of the Friedrich Naumann Foundation for Freedom (FNF), the dinner reception was attended by liberal parliamentarians from Belgium, Botswana, Cambodia, Canada, Cote d' Ivoire, Ireland, Lithuania, Malaysia, Philippines and South Africa.
With the theme, "Liberalism in the 21st Century", the Hanoi event was an integral part of the consultation and reflection process set up by the LI President which aims to understand better the challenges faced by liberals and to offer possible joint solutions to them. More specifically, the dinner reception hoped to encourage liberals to "walk the talk" and stand for the true value of liberalism amidst its contemporary challenges.
Franklin Drilon, IPU Executive Vice President, Philippine Senate President and Former CALD Chairperson, hosted the liberal gathering, which hopefully would be a regular feature of IPU events in the future. In his welcome address, Drilon asked: "Liberalism is said to be the ideology of the 21st century, but why does it appear to be in retreat? If liberals can offer the best solutions to the problems confronting the world today, why are we losing elections to conservatives, populists and ultranationalists? What are we doing wrong, and how can we address this?"
He surmised that liberalism's current crisis flows from the liberals' inability to correct the misconceptions about liberalism, particularly in relation to the economy. "The problem is that we liberals have not been very aggressive in answering the accusations against us, despite our knowledge of empirical evidence to the contrary." He then forwarded a challenge to the dinner attendees: "It is time that we liberals… face the criticisms against us, head-on. More importantly, we must practice what we preach, so we do not experience a crisis of credibility."
A panel discussion then followed, with Cambodian Member of Parliament Saumura Tioulong serving as session chair. Tioulong is from the main opposition party, the Cambodia National Rescue Party, which is a full member of both LI and CALD. She was joined in the panel by parliamentarians from Malaysia and South Africa, who both shared the challenges that their political parties faced as liberal opposition in their respective countries. Tioulong, in her reflection of the two cases, and of her our country, concluded: "…never let hopelessness overwhelm you. There is always hope. And on that point, it is very important that networks like CALD and LI exist."
"CALD and LI exist to connect and support liberals regionally and globally", said CALD Executive Director Lito Arlegue. "Through events like this, we hope to forge that bond among liberals so they can be each other's support system, especially in the face of continuing and emerging challenges to liberalism today", he added.
Categorised in: News, News Article
This post was written by CALD