November 11, 2016 6:47 am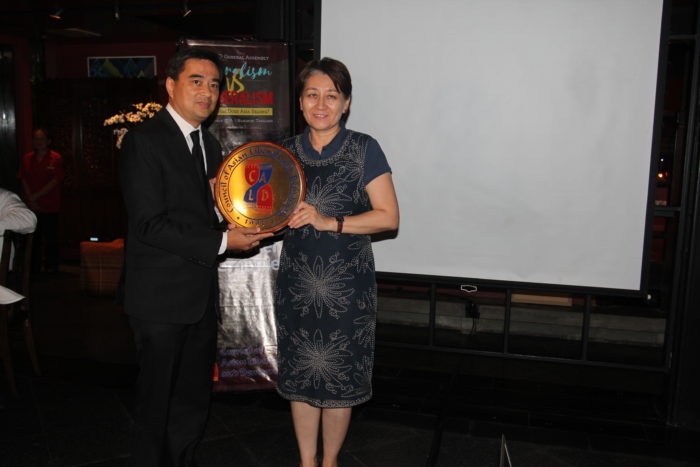 "The path to liberal democracy is not irreversible…  The struggle, the fight, must continue….  We have to assess both the successes and failures of the past as we try to move forward… We must reinvigorate, relate and reclaim."
These were the words of former Thai Prime Minister and current Democrat Party (DP) Leader Abhisit Vejjajiva as he assumes the chairmanship of the Council of Asian Liberals and Democrats (CALD) during a sumptuous dinner on 5 November 2016 in Bangkok, Thailand.
Held in the scenic Supatra River House along the Chao Phraya River, the CALD Chair-Party handover from the Civil Will Green Party of Mongolia (CWGP) to the DP also became an occasion to reflect on the state of liberalism in Asia and the world.
Khun Abhisit noted that when CALD was founded in Bangkok in 1993 with then Thai Prime Minister Chuan Leekpai (who was also present that night), there was genuine optimism in the world about the future of liberal democracy.  However, since then, it became clear that the liberal democratic path would be fraught with difficulties and challenges.
It was in this light that Khun Abhisit emphasized the need for liberals to "reinvigorate, relate and reclaim."  "Reinvigorate" pertains to the necessity of being committed to liberal principles and making these ideas relevant to and understood by the people. "Relate" refers to the need for liberals to connect to the people and to not be seen as part of the elitist political establishment.  Finally, "reclaim" means liberals should be champions of the people – liberals should have the moral high ground in advancing issues that cater to the public interest.
"In the end, our values, our principles, our movement is based on our faith in the people. We believe the people know what is best for them.  We believe that people should determine their own destiny", says Khun Abhisit.  "And I am confident that whatever aberrations, whatever deviations, in the end, the people will make the right and wise decisions.  We are here to support them, to empower them to do so."
Categorised in: News, News Article
This post was written by CALD