March 16, 2016 8:17 am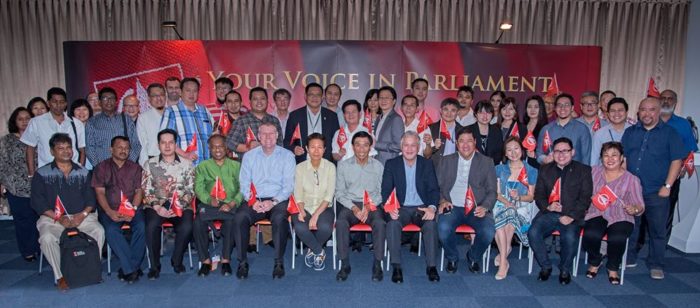 On 11-14 March 2016, the Singapore Democratic Party (SDP) hosted a CALD Executive Committee (ExeCom) Meeting and the 6th CALD Party Management Workshop.  This was only the second time that CALD was able to hold high-level events in the politically repressive city-state, where a permit is needed for public political events.
Delegates from Cambodia, Hong Kong, Indonesia, Malaysia, Mongolia, Philippines, Singapore, Sri Lanka, Taiwan and Thailand attended the Singapore gathering, which began on 11 March with a welcome dinner hosted by the SDP in its party headquarters.  Key party officials such as SDP Chairperson Dr. Wong Souk Yee and SDP Secretary General Chee Soon Juan, together with dozens of party members, partook of traditional Singaporean cuisine while SDP's 2015 General Elections (GE) campaign song  "I Will be the One" was playing in the background.
The next day, 12 March, began with an ExeCom Meeting presided by CALD's Chair-party, the Civil Will Green Party (CWGP) of Mongolia.  In the afternoon, the workshop proper commenced with Nick Clelland of Democratic Alliance, South Africa's largest opposition party, facilitating the discussions.  He pointed out that "strategic planning requires an understanding of the nature of the issue, and then finding of an appropriate response, or an outside-in mindset."  This, he added, necessitates a clear grasp of the political party's core values, together with its vision statement and goals.  Afterwards, he tackled the importance of situation assessment/environmental scan in the strategic planning process by looking into the cases of Mongolia, the Philippines, Singapore and Thailand.  The case of Singapore became more relevant because of a surprise announcement earlier that day that by-elections would be held in Bukit Batok, a single-member constituency that SDP contested in the 2015 GE.
March 13 was the most important day of the workshop as it dealt with strategy formulation, which entails synthesizing opportunities and strengths and choosing the best approaches to address critical issues.  This, according to Clelland, is where "the magic happens" – the most critical stage which could spell the difference between success and failure.  A group activity then followed where the participants were asked to formulate strategies on a hypothetical scenario – how to make the soon-to-be-released IPhone 7 the best-selling smartphone brand in the market.  In the afternoon, a session on strategic political communications was held, in which Clelland gave this advice, "Find an issue. Drive relentlessly. Repeat till you retire."
On the last day, 14 March, a strategic planning for CALD took place, where the participants formulated strategic plans on the following critical issue-areas: funding; profile; networking; electoral role; and internal relations.  In the afternoon, a special session with Clelland was requested by the SDP to guide the party in the upcoming Bukit Batok by-elections.
"Strategic planning only comes once in a while in Singapore, and this is invaluable for a party like the SDP that is struggling to get into parliament and push for democracy", says SDP Secretary General Chee. "The kinds of strategies and techniques – how to set goals and put together a program – these will enable us to be more effective in our work.  So thank you CALD for organizing this event in Singapore."
Categorised in: News, News Article
This post was written by CALD