November 29, 2016 11:47 am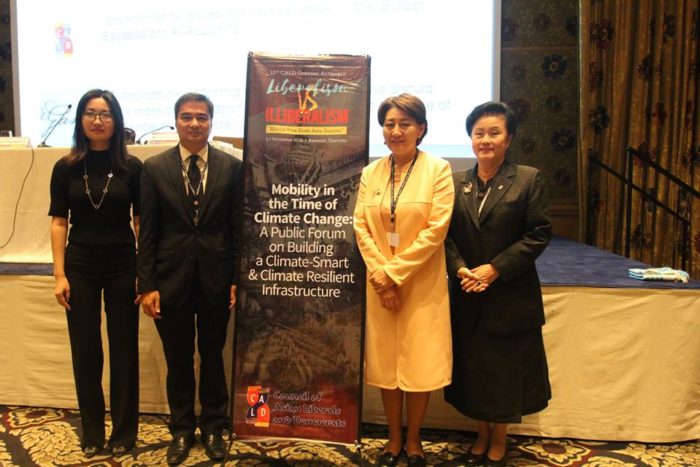 On 4 November, on the sidelines of its 11th General Assembly 2016, the Council of Asian Liberals and Democrats (CALD) held a climate change public forum, a consultative meeting with Liberal International (LI) and a workshop with the Alliance of Liberals and Democrats for Europe (ALDE) Party.
The climate change public forum, with the theme "Mobility in the Time of Climate Change", aimed to contribute to the promotion of climate-smart and climate-resilient infrastructure in the Asian region.  CALD Chairperson Oyun Sanjaasuren, who also serves as Chairperson of the Global Water Partnership (GWP), said in her opening remarks that the old business model is no longer sustainable in the time of climate change.  She pointed out that given the nature of the challenges we are confronting in relation to global warming, there is a need now for "holistic solutions".
Dr. Oyun's remarks were followed by the keynote address of Isra Sunthornvut, Secretary General of the ASEAN Inter-Parliamentary Assembly (AIPA).  In his address, he recognized that there is still a segment of the population that does not believe in climate change despite the presence of overwhelming evidence.  He then asked the questions:  "How do we reach out to the people who don't believe… or to the people who are in doubt about climate change? Is there a way to be less preachy about climate change and global warning?  How do we start building that trust?"
In line with the forum's theme, Member of CALD Climate Change Committee Monthip Sriratana – Tabucanon looked into the five vision points on how to make Bangkok a low carbon and climate change resilient city.
The forum concluded with an internal planning session amongst CALD members, where the following action points were identified: (1) come up with a common stance as regards climate finance; (2) explore climate funding opportunities; (3) emphasize the need for green alternative in infrastructure projects; and (4) conceptualize a common climate change policy platform for CALD members.
In the CALD-LI consultative meeting, LI President Juli Minoves-Triquell presented the draft LI Manifesto 2017 and gathered inputs from CALD members.  In the draft Manifesto, three key "threats to freedom" were identified: authoritarianism, populism and terrorism.  The Manifesto then identified the mission of liberals in the face of these threats: "to relaunch liberalism as a project of progress."  Specific responses were then enumerated to bring to fruition this mission.  CALD members raised issues and questions on the draft Manifesto, which were subsequently summarized, compiled and presented in the LI Executive Committee Meeting held in Marrakech, Morocco a week after.
The CALD-ALDE Party network workshop, which was facilitated by ALDE Party Political Adviser Andrew Burgess, tackled best practices in different aspects of organizational development and party management, drawing from the rich experiences of ALDE Party and its members.  More specifically, Mr. Burgess discussed ALDE Party's individual membership scheme, as well as successful initiatives on electoral campaigns and political communication of various political parties from Europe.
The day ended with a welcome dinner hosted by the incoming CALD Chair-Party, the Democrat Party of Thailand.
Categorised in: News, News Article
This post was written by CALD