November 13, 2017 6:05 am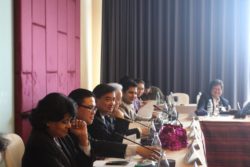 On 4 November 2017, CALD returned to Bangkok, Thailand for a workshop on climate finance and its 36th Executive Committee Meeting.
The 36th CALD Executive Committee Meeting discussed the outcomes of previous activities and outlined the network's events for 2018 – the year when CALD marks its 25th founding anniversary.  Reflecting on the current challenges of liberals and democrats, CALD Chairperson Abhisit Vejjaiiva said: "The challenge for liberal democrats is not just with communications, it is not just about fake news, and it is not just about not explaining ourselves well enough… We cannot just say that the populists, nationalists and authoritarians are wrong… We need to understand why they have been successful electorally and also address the issues that are in the minds of their supporters."
"Liberals and democrats can do best when we are a force for change – when we are a force for progress", Khun Abhisit added. "We are suffering either from being complacent or for being seen as part of the establishment"
The workshop, "Climate Finance: Financing and Promoting Green Innovations", addressed the opportunities offered by climate finance and how it could be tapped to advance green innovation and other climate change advocacies.  It also offered an opportunity to assess CALD's climate change programs, and consequently, to strategize on how they could be broadened and sustained.
The workshop commenced with presentations of two resource persons from policy and academic circles: Mr. Robert Dobias, former senior advisor and head of climate change coordination program of Asian Development Bank; and Atty. Francis Ron de Guzman, climate change expert from the International Studies Department of De La Salle University.
After the presentations and the open forum, the workshop participants assessed CALD's climate change programs (2011-2018) and forwarded proposals moving forward.  From the proposals, three priority areas were identified: (1) Engage ASEAN, AIPA and other regional bodies in CALD's climate change advocacies; (2) Incorporate site visits/field work in CALD climate change events; and (3) Widen the network by having climate change training modules for member-parties.
"Climate change is an issue that could define whether we are liberals and democrats – an issue where I think people know where we stand", said Khun Abhisit.  "But what they are looking for is whether we can change our principles into concrete plans of action that would actually deliver.  This could also be the message where we could garner support from the wider public."
Categorised in: News, News Article
This post was written by CALD