February 24, 2017 10:57 am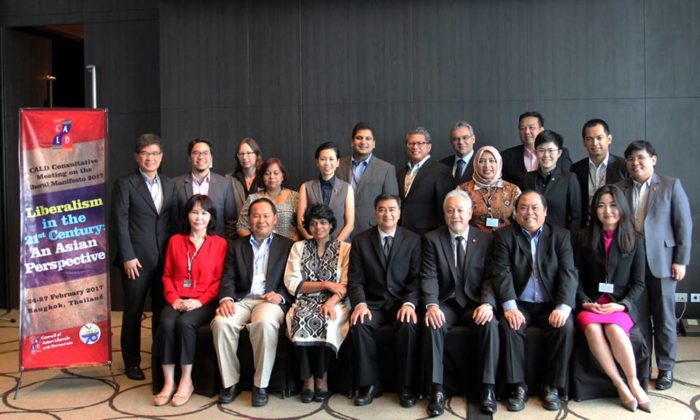 BANGKOK, 26 February 2017 – "We liberals and democrats are concerned about the rising threats to freedom in Asia. We devoted the past three days to discuss effective responses to the current political situation in the region – from the recent arrest of a Liberal Party senator in the Philippines, the elections in Indonesia and Hong Kong, to the amendments of the political party law in Cambodia. As a result the Council of Asian Liberals and Democrats (CALD) passed two resolutions on Cambodia and the Philippines condemning efforts to curtail political rights", said Abhisit Vejjajiva, the current CALD Chairperson.
Leaders of political parties from 9 countries in Asia convened in Bangkok on 24-26 February to discuss the new wave of populism, authoritarianism and extremism now gripping the region and the world. The political parties are members of CALD, a regional network of liberal and democratic political parties in Asia.
"We collectively recognized that the wave of discontent that led to the rise of populist leaders and the growing support for illiberal and authoritarian policies are partly a result of the failure to genuinely listen to the issues that matter to the people, and to adequately respond to their needs. As liberals and democrats, we always work for policies that truly cater to the interest of the people, but must strive to serve the people's needs better so that we can effectively fight the populists and authoritarian leaders who have been exploiting fears and insecurities and peddling simplistic solutions to complex problems."
The results of the CALD discussions in Bangkok will be presented to Liberal International (LI), a world federation of liberal and democratic political parties, which is currently in the process of drafting the Liberal Manifesto 2017. In particular, CALD has proposed that the Manifesto must tackle the issues of inequalities and social injustice, which are relevant to Asians and have contributed to the rise of illiberalism.
CALD, together with LI, remains steadfast in its commitment to the growth of a society based on personal liberty, personal responsibility, social justice and the rule of law amidst the growing challenges to freedom and democracy today.
"Liberals and democrats must reinvigorate our principles and values, and relate them to the needs of the people today. By doing so, we can rightfully reclaim our place as the true champions of the people," Abhisit added.
Categorised in: News, News Article
This post was written by CALD