August 18, 2017 7:27 am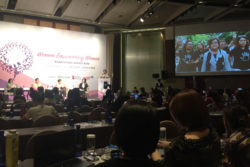 In a resolution passed during its recent international conference in Taiwan, the Council of Asian Liberals and Democrats (CALD) reiterated its call to stop extra-judicial killings that tainted the Philippines' war against illegal drugs. The call coincided with the intensified campaign of the authorities which claimed the lives of at least 60 people in the past 3 days.
The same resolution reaffirmed the network's position that the detention of Senator Leila de Lima rests on questionable grounds, and that this "could be part of the Duterte administration's political vendetta against her, given her staunch opposition to extra-judicial killings". Today, 18 August, Senator de Lima attended a hearing of one of the cases against her in the Muntinlupa Regional Trial Court. Today also marks her 175th day in detention.
CALD also appealed to the Philippine Senate to allow Senator de Lima "to fully carry out her duties as a duly elected Senator of the Republic, including the right to cast her vote on legislative bills". It also commended the lady senator's "strong will and dedication to fulfill her responsibilities as a legislator and as an opposition politician, even while in detention, by regularly issuing handwritten notes expressing her position on national issues and legislative bills."
In another resolution, CALD also expressed grave concern on the escalating tensions between United States and North Korea, and urged the leaders of both countries "to tone down their fiery rhetoric, to refrain from taking actions which may further escalate tensions, and to exhaust all diplomatic means to find a peaceful solution to the conflict."
CALD held the conference with the theme "Women Empowering Women: Experiences Across Asia" on 11-12 August 2017 in Taipei, which was attended by hundreds of international and local delegates. The delegates to the conference proposed the adoption of the two above-mentioned resolutions due to their connection with broader women's issues and concerns.
See full texts of CALD resolution no. 3 on Senator de Lima's detention here, and of CALD resolution no. 2 on US-North Korea tensions here.
Categorised in: News, News Article
This post was written by CALD