September 7, 2017 5:52 am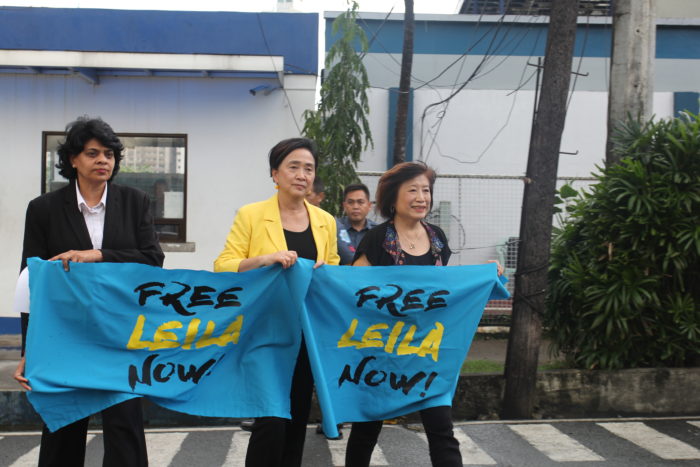 Philippine Senator Leila M. de Lima, who is currently detained on politically-motivated charges, found new allies in a delegation from the Women's Caucus of the Council of Asian Liberals and Democrats (CALD) who visited her on 31 August 2017 in the Philippine National Police (PNP) Custodial Center in Camp Crame, Quezon City, Philippines.
Jayanthi Devi Balaguru, CALD Women's Caucus Chairperson and head of delegation, implored the courts "to rule on the petitions of Senator de Lima in accordance with the right to fair and speedy trial, which is recognized in both the Philippine constitution and the International Covenant on Civil and Political Rights (ICCPR), where the Philippines is state party.  Every day that Senator de Lima spends in jail as a political prisoner is an affront to human rights, rule of law and public accountability – fundamental principles that the Philippines prides itself on as a democratic country."
"We call on the Philippine authorities to immediately release Senator de Lima by withdrawing the drug trafficking charges against her", said delegation member Emily Lau, who is also a former legislator from the Democratic Party of Hong Kong (DPHK).  "The charges do not stand even a cursory legal scrutiny, having been based on conflicting testimonies of criminals who were subsequently absolved of drug charges after they agreed to be prosecution witnesses", she added.
Maysing Yang, vice president of the Taiwan Foundation for Democracy (TFD) and International Network of Liberal Women (INLW), likewise appealed to the Philippine Senate leadership and to the courts to grant Senator de Lima's request to participate in important legislative deliberations.  "As a duly elected senator of the Philippines, she should be afforded the right to fully carry out her legislative duties, including the right to cast her vote on legislative bills, especially since she is not yet convicted of any wrongdoing. Denying her this right is a great disservice to the more than 14 million Filipinos who put their trust in her in the last elections".
After a 2-hour meeting with the detained senator, the members of the delegation said in a statement: "As representatives of women leaders across Asia, we will closely monitor the progress of Senator de Lima's case, and like her, we hope that justice will be served and she will be vindicated in the end.  We are hopeful that this will come soon so she can be of great service to her country again."    
Categorised in: News, News Article
This post was written by CALD