August 16, 2017 12:03 pm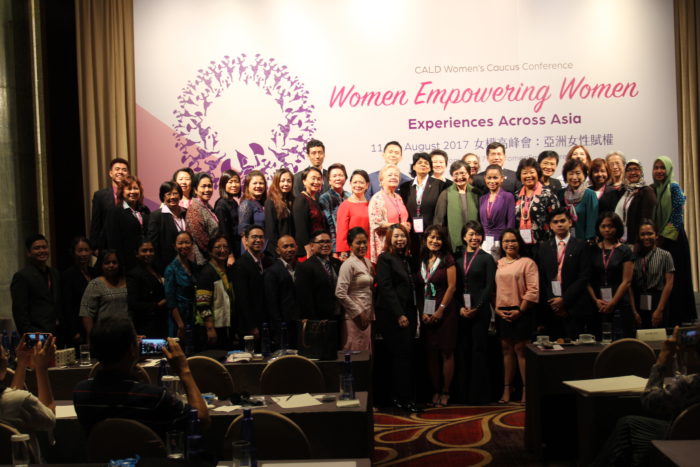 "The United Nations (UN) should consider holding the Fifth World Conference on Women – it has been long overdue."  This was one of the calls of hundreds of women who assembled in Taipei, Taiwan on 11-12 August 2017 for an international conference with the theme "Women Empowering Women: Experiences Across Asia" organized by the Council of Asian Liberals and Democrats (CALD), a regional network of liberal and democratic political parties in Asia.
"By using our wide network in the Asian region and beyond, we can be an important player in making this global women's vision a reality", said Dato Jayanthi Devi Balaguru, CALD Women's Caucus Chair in her closing statement.  She also appealed to CALD member-parties to ensure the passage of gender equality act in their respective countries, if they still don't have one, as well as the establishment of a regional mechanism to ensure compliance.  Furthermore, she declared the support of the Women's Caucus for the globalization of the Istanbul Convention, a 2011 agreement initiated by the Council of Europe to prevent and combat violence against women and domestic violence.
The two-day conference, which was also co-organized by the Democratic Progressive Party (DPP) of Taiwan and supported by the Friedrich Naumann Foundation for Freedom (FNF), also featured the most prominent women leaders from Taiwan, including incumbent President Tsai Ing-wen and former Vice-President Annette Lu, the first women to assume their respective posts in the country.
"Since Taiwan lifted martial law 30 years ago, the collective efforts of the Taiwanese people have helped ensure women's rights and increased their political participation," said President Tsai in her welcome remarks for the conference.  "Taiwan's journey toward women's empowerment shows that promoting gender equality reinforces democratic and progressive values", she added.
Former Vice President Annette Lu, whom President Tsai described as "an indispensable driving force in Taiwan's democratization", said in her keynote address: "I firmly believe that with feminism and soft power, women's leadership can change the world better. Women shall be determined to lead their family, their society and their world for a better future. Women shall make mission impossible into mission possible. Above all, women shall write her-stories into human history!"
Categorised in: News, News Article, Uncategorized
This post was written by CALD